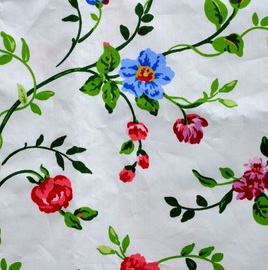 Many people today do not know what the term "chintz" means with regards to fabric, but chintz fabric was once one of the most popular textiles on earth. Derived from the Hindu word "chint" meaning "spotted", this fabric was originally produced in China and India for bedding and draperies. This cotton fabric is characterized by its resin glazing and can be solid or printed, but today is frequently seen as a highly glazed floral print.
European explorers brought chintz fabric back to France and England from Asia in the 1600s, and this import became so popular that it threatened local textile productions. By the end of the 1600s, the French and British governments had enacted laws banning the import and use of chintz fabric for furnishings and apparel.
These laws compelled European textile manufacturers to replicate chintz fabric in their own mills, and the ban on importing chintz was eventually repealed. According to Michaela Murphy of
Threads Magazine
, with this new widespread production, chintz fabric became so common
"that the term "chintzy" became synonymous with anything common or overly abundant."
Today, chintz is enjoying a revival with modern interior designers who are using this textile in new and exciting ways. According to
Southern Living Magazine
,
"chintz is now being partnered with contemporary furniture, geometric prints and vivid colors,"
giving this traditional fabric a bold new look.
If you would like to explore how chintz fabric can complement you interior design plans, stop by Fabrics Unlimited in Charlottesville, Virginia to see our collection of in-stock 1st quality chintz fabrics today.