Fabrics Unlimited In Charlottesville, Virginia since 1971!


The story of Fabrics Unlimited began back in 1971 when Bill Herndon and Hank Caddell decided that Charlottesville needed a discount fabric store.
Their dream was to offer the best quality, price and selection of fabrics from the best named brands in the business. Soon after this Bill and Carolyn Herndon took over complete ownership.
---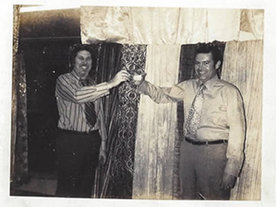 Still Family Owned And Operated
The fabric business has changed over the years, but the Herndon family still owns and operates Fabrics Unlimited in Charlottesville, bringing 1st quality drapery and upholstery fabrics to Central Virginia customers. Fabrics Unlimited has the area's largest in-stock selection of decorative fabrics at discount prices and loyal customers come from all over Virginia and beyond to shop and save. Generation after generation of "material girls" (and guys) have come to Fabrics Unlimited to be inspired by the thousands of in-stock fabrics, and customers enjoy Fabrics Unlimited's unique sample service, where they can check out a large 1.5 to 2.5 yard sample to take home and actually see the fabric in their setting.
---
Why settle for off the rack interior design features when you can custom design your home with beautiful, quality fabrics at great prices from
Fabrics Unlimited
.
Call Us at 434-973-5641 or
Contact Us
Today!