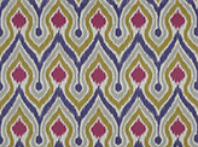 Purple Lovers Love 2014
Purple seems to be one of those colors that people either love or hate. With Radiant Orchid being the 2014 Pantone Color of the Year, purple rooms are showing up in design magazines everywhere this year, including
House Beautiful Magazine
which has a slideshow of their
"favorite purple-hued spaces for more decorating ideas"
to inspire their readers.
Aubergine, orchid, lavender,violet, eggplant, grape, lilac, amethyst, mulberry, and plum are just some of the many purple hues to choose from. According to Karen Carpino, a style blogger with
Today's Chicago Woman
, deeply saturated colors like plum are an interior design trend for 2014. She suggests choosing rich fabrics such as velvet and suede,
"fabrics that are sophisticated yet durable and can hold up to the darker color schemes."
Purple can be an easy color to use for interior design because it has so many other colors like blue, red, green and even yellow embedded in it. If you can't handle that much purple, try it first as a throw pillow, ottoman or table runner.
As one of the colors so frequently associated with royalty, the color purple can add richness and sophistication to your home decor. If you are searching for fabric with the purple hue that works best for your home, come to Fabrics Unlimited in Charlottesville, Virginia for the area's largest in-stock selection of 1st quality decorative fabrics.