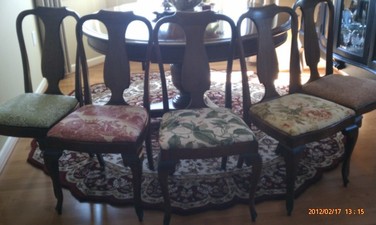 The chilly weather is here and thoughts of Thanksgiving and this wonderful holiday season are upon us. But our house, well, it needs something! Family and friends are coming and our dining room chairs still have the stains left from last year. SO…let's reupholster them! This is a quick and easy way to spruce up without spending too much of the little free time we have. At Fabrics Unlimited we've found most dining room chair bottoms only use ¾ of a yard to reupholster...TWO chairs! So your cost can be low. Even new pillows for the sofa can make things look refreshed.

If you are looking for something "different" for the dining table, a runner can be a simple decorative touch. For a rustic harvest look, burlap accented with gold or silver flecks is a hot new trend. Autumn rusts, navy or fashion forward gray are just part of the spectrum of new fabrics arriving daily at Fabrics Unlimited.

Let us show you...Just In Time!